If you are like us, then you're dreaming of social distancing on a beach, rather than your couch right about now. When we think about brighter days ahead, we're picturing the sun setting in the Caribbean. And what place is more perfect to watch that sunset than beautiful Jamaica
The world is focusing on slowing the spread of this unprecedented health pandemic, but travel plans are picking up. The Fall and Winter of this year and 2021 are set to be quite busy around the world. What better time to plan a trip, than while your family is home? Now's your opportunity to discuss everyone's travel dreams.
The Jamaica Tourist Board said it best, when they said, "Even though we're many beating hearts, in times like these, our hearts beat as one."
Millions of families all around the globe are in this together. We truly believe that we'll have a greater appreciation for meeting people from all over on our next adventures.
So, sit back, and let's plan out your next trip, excursions and all! The only thing left for you will be to catch that plane and make some friends on your Jamaican vacation.
We've compiled some of our preferred beaches, hotels, and excursions for you to review below! But don't stop there, let's talk about your preferences and needs, and work together to create your perfect itinerary!
Jamaica Inn
Main Street, Ocho Rios, Jamaica
Since 1950, this resort, on one of Jamaica's premier private beaches, has been rated among all Caribbean luxury hotels. The experience begins the moment you arrive at the well-manicured grounds and open the doors to your antique-appointed room. You'll stand on your own exquisite veranda, soaking up the magnificent Caribbean views.
Round Hill Hotel & Villas
John Pringle Drive, Montego Bay, Jamaica
Each of the 27 complete luxury villas has a personality all their own but share a consistent theme. Modern refinement, classic style, and exceptional service. There are four classes of villas depending on the number of travelers, and the desired amenities.
Ralph Lauren designed each of the villas, as well as 36 oceanfront guestrooms. Island style, and subdued sophistication at its best!
Meliá Braco Village
Rio Bueno District, Rio Bueno, Jamaica
This all-inclusive hotel is located only 45 minutes from Montego Bay airport. It overlooks fine white sand beaches and gorgeous turquoise water. This is a fantastic option for families as well as couples. For families, the hotel offers a Kids Club, and for travelers looking for excitement, there's an adventure park available.
Half Moon Beach
Come see Jamaica and all of its natural beauty without the hustle and bustle of the more direct tourist locations. Enjoy a day on the private property soaking up the sun and fun, snorkeling, devouring delicious local foods. Then take bamboo rafting tour, one of the only of its kind on the open sea!
James Bond Beach
Also known as Laughing Waters Beach, and Roaring River Beach, this beach sits on a small peninsula at Oracabessa Bay, about 10 miles from Ocho Rios. Home to a water sports center, bar, and restaurant, and surrounded by crystal clear water on three sides and the mountains of St Mary on the fourth, this beach also has been the site of concerts by international artists such as Ziggy Marley, Rihanna, and more!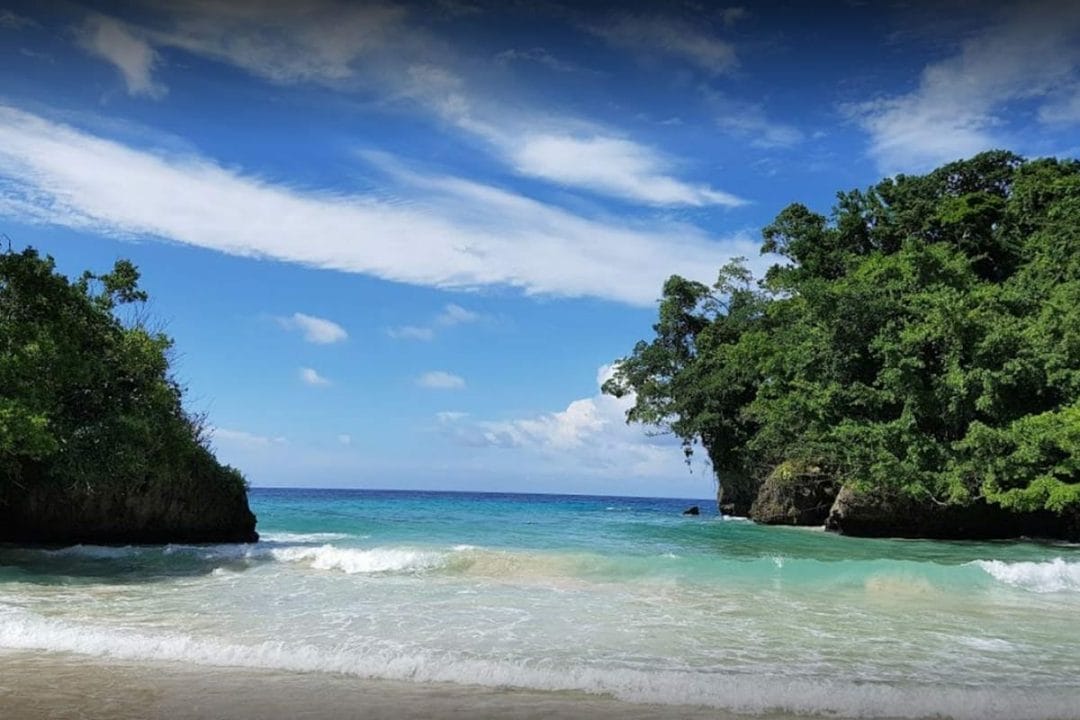 Frenchman's Cove Beach
This beautiful beach is where the river flows into the ocean. Visitors have access to swings all along the riverbank, where they'll feel like they are stepping into their very own postcard. Wild mango trees, a small restaurant, and a variety of amenities are available on this world-famous beach!
Waterfalls
Jamaica is known for its beaches, but its dense rainforests and lush vegetation cannot be forgotten about. Sometimes referred to as the "Land of Wood and Water", a trip to view the falls is a must!
Spelunking
Explore the beautiful limestone rock formations, in the deep depths of this tropical island. Sparkling walls, shadowy caverns, bats fluttering up high… This is a unique, and memorable way to spend your time in Jamaica.
Treetop Adventures
Why keep two feet on the ground, when you can see Jamaica from new heights? From Zip Lines, to aerial adventure parks, you can find an adventure for the entire family.
Sugar Mill Restaurant
An award-winning fine dining restaurant known for its unique twist on Jamaican cuisine, and its historical location. The menu tells a story about food in Jamaica: From the countryside to the sea, featuring dishes such as Crayfish Bisque, Brandada with Ackee Flan, and a meat/seafood brochette flamed with aged rum.
Geejam Bushbar
Sit back and enjoy Jamaican fusion dishes and cocktails in one of the coolest backdrops in Port Antonio. Geejam Hotel's exquisitely situated Bushbar features an infinity pool, live entertainment, a DJ sound system, and an outdoor pool table. The sea-to-forest views will feed your appetite as well as your soul.
Seagrape Terrace
Featuring al fresco dining, this restaurant is known for its wide selection of dishes and international cuisine. It is regarded as one of the best outdoor dining locations in all of Jamaica and is popular among locals as well as guests on the island for their internationally-themed buffets and extensive a-la-carte menu.
Book Now, Travel Later!
Give us a call at 732-866-9969 or send us a message to get those travel plans started!